ISO/IEC 27001:2013 Lead Auditor Training Course (5 Day) – (CQI|IRCA Certified) – (in English)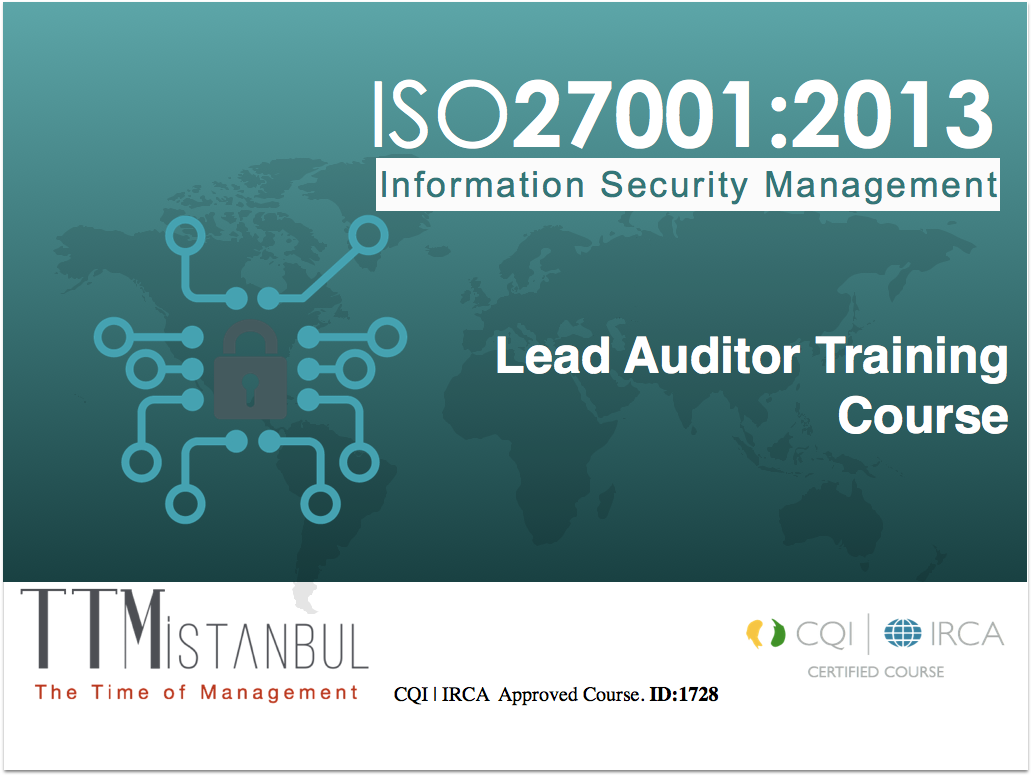 Overview
This five-day intensive ISO 27001 Lead Auditor course enables you to develop the expertise needed to audit an Information Security Management System (ISMS) and to manage a team of ISO 27001 auditors by applying widely recognized audit principles, procedures and techniques.
During the ISO 27001 Lead Auditor training, the participant will acquire the skills and knowledge needed to proficiently plan and perform audits compliant with the certification process of the ISO 27001 standard.
Based on practical exercises, the participant will develop the abilities and skills necessary to the efficient conducting of an ISO 27001 audit.
Objectives
This programme aims to equip the delegate with:
Acquiring an expertise to perform an ISMS audit as specified by ISO 27001
Acquiring the expertise necessary to manage an ISMS audit team.
Understanding the application of the information security management system in the ISO 27001 context.
Understand the relationship between an Information Security Management System, including risk management and controls, and compliance with the requirements of different stakeholders of the organization
Improve the ability to analyze the internal and external environment of an organization, risk assessment and audit decision-making in the context of an ISMS
Benefits
Upon completion of this programme, participants will be able to:
Lead and manage 1st, 2nd or 3rd party audits
Advanced knowledge of the requirements of ISO 27001 and related standards and guidelines
Detailed understanding of the processes necessary to design, document, and implement an Information Security Management System (ISMS) conforming to the requirements of ISO 27001
Who should attend?
Auditor wanting to perform and lead an Information Security Management System (ISMS) audits as the responsible of an audit team
Project manager or consultant wanting to master the Information Security Management System audit process
Person responsible for the Information security or conformity in an organization
Member of the information security team
Expert advisor in information technology
Technical expert wanting to prepare for an Information security audit function
Pre-requisite
A fundamental understanding of ISO/IEC 27001 and comprehensive knowledge of audit principles.
Tutor
The tutor conducting this course has been approved by TTMISTANBUL through a vigorous evaluation process based on skills, knowledge and qualifications. Tutor will be able to share with you vast audit experience and guide you through the correct application of the ISO 9001 and ISO/IEC 27001 standard in the context of the audit. The tutors will also be able to provide advice on how to handle difficult audit situations.
Duration
This is a five-day course
Full attendance, and passing the examination and practical assessment are compulsory to attain certification.
*Note: additional 30 minute is given if English language is not the participant's 1st language. Please take note that the daily timing may be extended depending on the need and progress of the class.
Please take note that electronic devices are not allowed during exam.
Enquiry
OpenFinTech – Training Center
Finance and IT Consulting Services Ltd.
214 Lower Addiscombe Road,
Croydon, Surrey, CR0 7AB, UK
Contact Details:
Ph: +44 7444 87 7475
Email: info@openfintech.co.uk
Course Features
Lectures

0

Quizzes

0

Skill level

All levels

Language

English

Students

0

Assessments

Yes